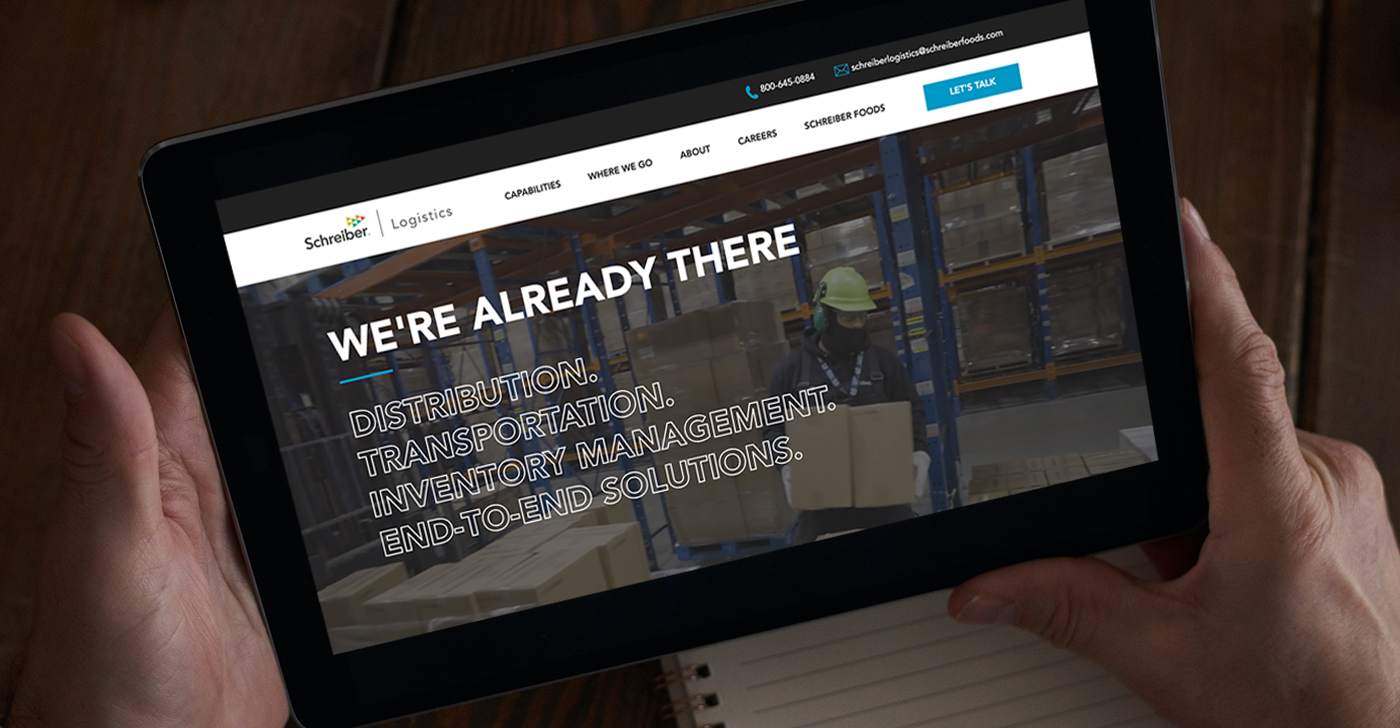 Case Studies
Client
Schreiber Logistics
A brand new website for a brand new service
Overview
Schreiber Foods needed a website to educate customers and prospects about its new service, Schreiber Logistics. The website would showcase Schreiber's position as a leader in the refrigerated logistics industry, share details about services, and easily connect customers and prospects with options to get a quote and more information.
Approach
Schreiber Foods is a global manufacturer and supplier of dairy products that ships over 2 billion pounds of products each year. The company built its internal logistics and supply chain capabilities to ensure these products get to market quickly, whether it's across the street or across the country.
As it prepared to launch Schreiber Logistics in the U.S., Schreiber saw a need for a website that would act as a hub of information for customers and prospects. It partnered with Risdall to develop SchreiberLogistics.com as a central resource for customers and prospects who need to improve their refrigerated logistics.
Risdall worked with Schreiber to set the website strategy before building and deploying the site.
A powerful part of the discovery and research phase was stakeholder interviews with Schreiber team members. These interviews provided valuable insights into customer needs, competitor offerings and Schreiber differentiators. These details were woven into personas to guide user experience and content for the site.
With this information, Risdall developed a sitemap and user flows, as well as a measurement and analytics plan. Schreiber's internal resources were tapped to create the website's design based on the site architecture and in concert with creation of additional marketing materials for this newly formed division. Collaboration between Risdall and Schrieber ensured company and user goals were at the forefront of the build and design as it was handed off between teams.
Solution
The Schreiber Logistics website was built in Kentico. Two-week sprints were set to guide development, from hosting environment procurement and content management system (CMS) configuration, to working on the user interface and CMS development tasks, and finally building each component and posting for testing and client review.
Once these efforts were complete, the site deployed.
The home page welcomes visitors to learn more about Schreiber Logistics and how its expertise can get products to destinations more quickly, easily, and cost effectively. A comparison grid allows visitors to see at a glance how Schreiber compares to others along the supply chain, and a map of the U.S. showcases the vast network of shipping lanes available to customers.
Results
To measure results, a Google Data Studio dashboard was set up to track specific metrics important to the client.
The dashboard gives Schreiber Logistics a view into specific metrics related to its company goals of educating customers and prospects, elevating its position as a leader, and connecting with customers. Customized metrics include:
New vs. returning users over time
User acquisition channels
Branded vs. non-branded search volume
Engagement with high value content
Video starts and completions
Form submissions, clicks to call, and clicks to email
Since launch, the site has seen steady gains in branded search and 10% month-over-month growth in non-branded search, which supports Schreiber's awareness goals. Visits to high-value pages and form submissions continue to rise as well, in fulfillment of positioning and sales enablement goals.
Every business challenge has a solution. Let's talk about yours.
Get in touch with us today and let us know how we can bring our expertise to help your business.
"*" indicates required fields