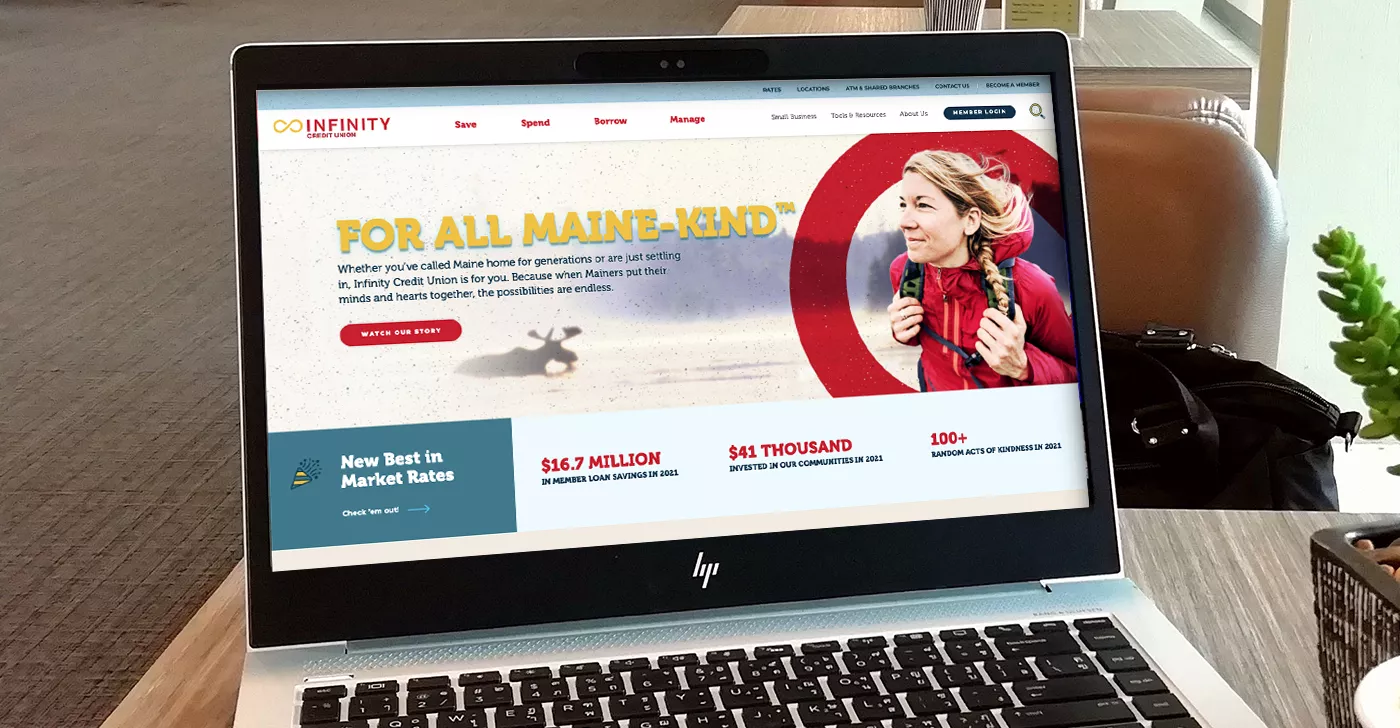 Case Studies
Client
Infinity Credit Union
Redesigning a member-first, heart-centered brand
Overview
Infinity Credit Union (Infinity) boasts 100 years of history serving the residents of Maine. It has over 18,000 members across the state with five branches.
The leadership team was searching for a marketing partner to help with their marketing strategy, including their brand position and marketing communication plans. The current positioning was stale and ineffective at distinguishing the organization from competitors. It did not truly capture or represent the heart of Infinity and its employees. Ultimately, the team wanted stronger marketing materials to leverage in a campaign, to reach more Mainers, and grow its members.
Risdall participated in a national search and won out over several other firms after participating in interviews with Infinity team members and recommending a brand direction that Infinity felt could propel the brand forward.
Approach
Positioning work began with Risdall conducting focus groups with employees to glean key insights on what makes Infinity unique and to gain a perspective on whether employees could be a differentiator in this space.
During our interviews, we discovered that the combination of employees and the way they delivered "elements of the extraordinary experience" gave Infinity a place to start to build a position. Infinity truly has a heart for the people of Maine and were implementing a unique member-first business model.
Risdall took the time to understand and define key audience segments across a variety of demographics and interests. We quickly realized Infinity had the opportunity to celebrate all that makes the people of Maine special: their diversity, resilience, and their sense of community. They serve a diverse population and care genuinely about helping people succeed financially.
Our goal was to reveal the heart of Infinity and the organization's love for Maine and its amazing people. We began by helping Infinity articulate the key "anchors" of their position: love, impact, tailored, community, trust, and character.
This culminated in the position WE KNOW MAINE BY HEART, which became the foundation of the new brand in November 2021.
Solution
With this new positioning, Risdall launched a multimedia awareness campaign to lay the groundwork for long-term membership participation, retention, and expansion. Using storytelling to demonstrate Infinity's true understanding of the Mainers they served, we created a series of anthem videos, member testimonials, short animations, and ad units as essential vehicles to deliver their promise, "For all Mainekind!"
We even recruited a local filmmaker to join the effort and provide authenticity to the campaign, including his own voice.
The centerpiece of our efforts was a new website. The site provided a new visual identity and voice to the brand as well as new features, organization, and functionality. It was delivered in record time on budget.
The rollout of the campaign was heavily digital, using a variety of precision-targeting methods:
Location-based targeting: visits to other banks or credit unions, college campuses and car dealerships
Proximity targeting of select neighborhoods
MLS targeting: visitation to open houses
Website visit retargeting
Targeted ads were served via social media, display, connected TV, and audio platforms.
Results
The new creative speaks authentically to the people of Maine and it has been incredibly well received, driving a high emotional appeal.
The first month of activity drove 3.5 million views and a clear uptick in business interest.
The brand campaign drove one of the best months in the credit union's history in terms of new auto loan applications.
Every business challenge has a solution. Let's talk about yours.
Get in touch with us today and let us know how we can bring our expertise to help your business.
"*" indicates required fields