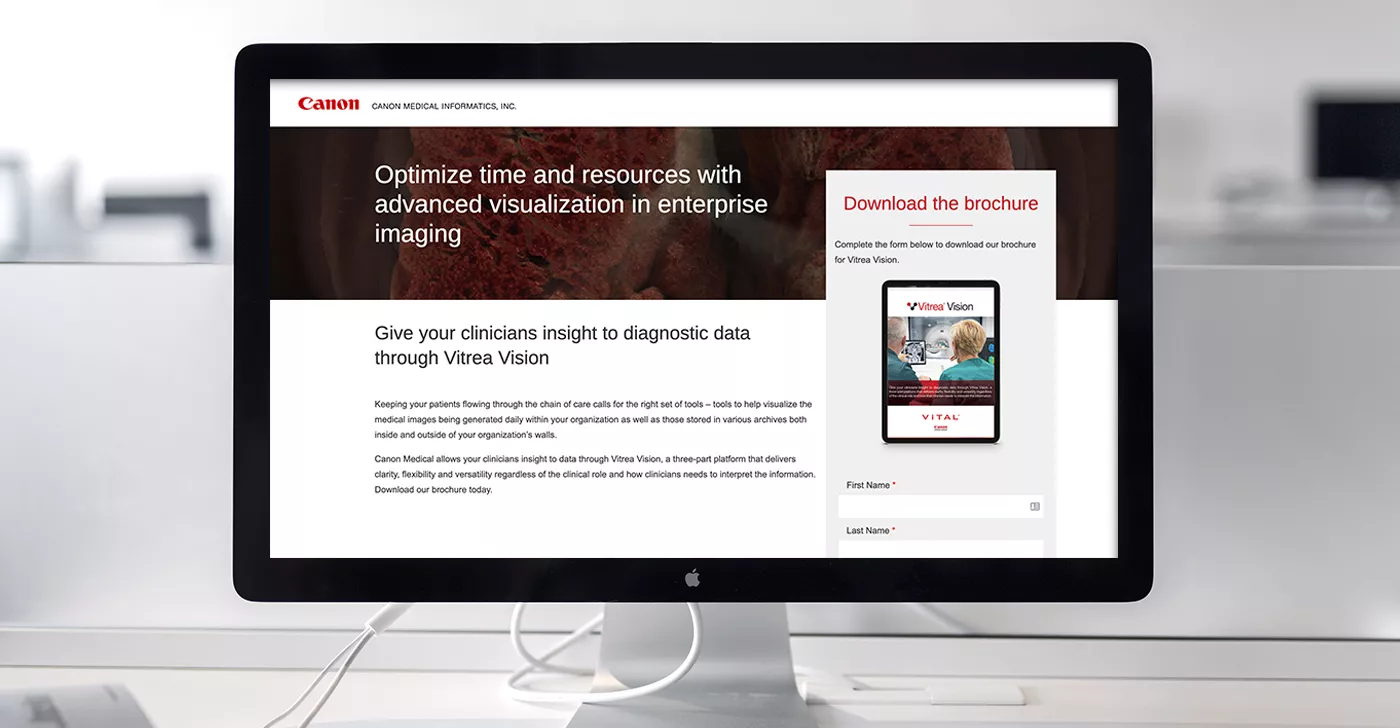 Case Studies
Digital transformation to evolve lead-generation efforts
Overview
Canon Medical provides Enterprise Imaging (EI) solutions to hospital networks across the United States. They are a leader in Enterprise Imaging; their technology allows clinicians and organizations to seamlessly access important patient imaging, data, and multimedia, ultimately contributing to consistent, quality, patient care – replacing disparate systems.
Reaching the right audience with the right information is a struggle. Canon Medical was using traditional methods — like print and trade show advertising — which can be expensive and is difficult to measure.
Since the sell-in cycle is a long, complex process that entails communication with multiple stakeholders, answering many specific questions, Canon needed a way to develop a larger pipeline of visibility, interest and inquiry for the sales team.
Approach
Risdall helped Canon Medical map its marketing strategy by identifying and reframing marketing goals in support of overall sales goals.
We began by gaining an understanding of the marketing to sales pipeline and mapping multiple buyer journeys of those critical to purchase decisions, identifying the messages and triggers needed to communicate with them effectively.
Then, we analyzed the company's existing channels and opportunities, and built a new strategy that included untapped digital engagement, determining how leads would be attributed to digital marketing.
Finally, we developed a content strategy to deliver key insights to primary decision makers – Clinician Leaders or IT PACS Directors.
Solution
Through collaborative planning sessions with Marketing and Sales, Risdall and Canon identified the appropriate blend of engagement tactics, content and calls-to-action, along with outlining an attribution model to track leads back to marketing efforts.
Highlights of the solution included:
Optimization of ad campaigns to drive high quality leads
Intent-based SEO to drive users to the content they are looking for along their customer journey
Audience-focused content strategy, planning and content marketing including videos, articles, e-books, virtual trade show micro sites, and tailored landing pages
Sales presentations
Trade show marketing including quick adaptation to a fully digital world
Measurement planning and tracking at every stage of the customer journey
Conversion optimization
Results
With the new marketing strategy centered around business goals, Risdall and Canon Medical delivered on the company's lead generation goals (confidential) and raised the profile of marketing with the company. We continue to evolve our partnership to support the organizations' goals and work with the team to optimize quarterly plans.
Every business challenge has a solution. Let's talk about yours.
Get in touch with us today and let us know how we can bring our expertise to help your business.
"*" indicates required fields